My sissy is amazing. Recently she announced,
"I just bought re-usable cloth: napkins, produce & bulk bags...another step closer to being greener! AND made in the USA (even the materials!)"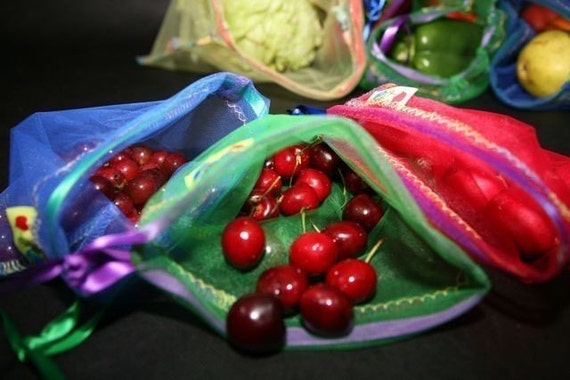 She bought from an Etsy vendor
LoveForEarth
who lives in Virginia and focuses on eco-friendly alternatives, such as the cloth bags and napkins my sister bought from her. Even better, on LoveForEarth's Facebook page she announced an Earth Day special discount. My sister mentioned she had just missed the special, but loved her products, and guess what! The vendor applied the Earth Day discount retroactively and refunded her the savings!
I've been using cloth napkins for a while now, and my tip would be to get something in a multi-colored pattern. I have white napkins and black napkins, and the white napkins show stains too easily and the blank napkins show bits of lint that they pick up from the dryer. Of course, with the white napkins I can use bleach, but I try to only do that a few times per year, because bleach is so caustic.
Another dilemma I recently solved was in regards to silverware. We had previously been using an odd assortment of spoons, forks, and knives from at least 6 different sets.One of the things I had really wanted was a real, grown-up, silverware set to use (and not be embarrassed when we had company over).
I thought Oneida was still manufacturing in the US, but turns out they moved their production facilities to China back in the 90's. Boo! I looked and looked, but could only find one silverware maker in the US, but the were an online only store and had an extremely restricted return policy, so if I didn't like the set I bought, I would not be able to return it. Lame!
I end up searching on Etsy and found a vendor (AuctionJunkies) who was selling old Oneida sets (similar to the one pictured below). Even better! Originally made in the US, second hand, and now being bought from someone in Missouri. Yay!